How Should Hendricks Gin Be Served?
If you are an amateur gin fan, or even if you're a gin connoisseur who just hasn't had the chance to taste this brand, you may be wondering what exactly the best way to serve Hendrick's Gin is.
Hendrick's Gin should be served in a frosty highball glass with ice. Then add a garnish of cucumber in some capacity, as this will highlight some of the most prominent flavors in Hendrick's. Finally, it can be consumed as is or topped off with some tonic water.
This is the best way to serve and consume Hendrick's gin, so let's look at the breakdown of this beverage, as well as some common variations that many fans and bartenders have attempted and enjoyed over time.
What Does Hendricks Gin Taste Like?
Let's take a step back and evaluate what exactly Hendrick's Gin tastes like.
You may imagine that it tastes just like every other gin on today's shelves. You'd be somewhat accurate; Hendrick's does have many of the classic gin tasting notes that many know and love. However, Hendrick's also has some distinct flavors that are delicious and unique to the brand.
During the initial taste of Hendrick's, you will notice the refreshing and crisp taste of juniper. This is classic and expected in a gin. It's what makes gin so consistent and reliable when looking for a refreshing drink, particularly in the spring and summertime.
Hendricks seems to have a flavor of cucumber in there as well.
Once the notes of juniper subside a bit, you will notice some of the citrusy notes highlighted a bit more. Flavors of lemon and orange add a bit of zest to the mix, and there is even a very subtle floral taste of rose.
These subsequent notes are what make Hendrick's so unique in the gin world, and part of the reason why the brand has become so popular and beloved.
As a whole, the result is, to put it simply, a fantastically refreshing gin. It is light but warm. It maintains classic flavors while adding new life to the mix with citrus and floral tasting notes.
While some gin brands give off a crisp wintery vibe, Hendrick's shines best during the warm weather months.
Proportion of Gin vs The Amount of Tonic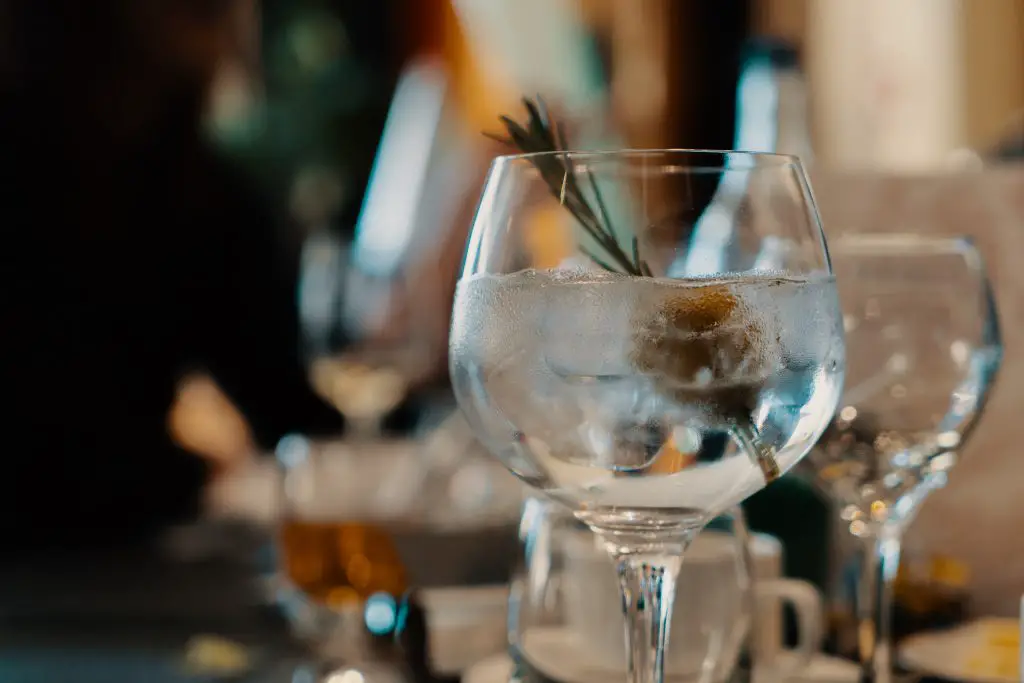 Let's discuss the amount of Hendrick's Gin that should be used versus the amount of tonic that you want to add to optimize this beverage.
Of course, if you are opting to drink Hendrick's straight, this section can be skipped. However, it may be good and useful knowledge for future beverages to understand what proportions are best to use when making a standard Gin and Tonic.
The proportions that many experts recommend for a Hendrick's Gin and Tonic is to pour about 50 ml of Hendrick's Gin into the prepared highball glass with ice cubes. It should then be topped off with about 150 mL of tonic water of your preferred brand.
This typically will achieve the best balance to soften gin for G&T lovers, as well as Hendrick's fans looking for a softer, less intense beverage.
As with drinking Hendrick's straight, this Gin and Tonic should be completed with a cucumber garnish. In the next section, we will look into the common choices for this crisp garnish a little further.
The Essential Cucumber Garnish
Almost any bartender or gin expert will tell you that Hendrick's Gin is best consumed with a cucumber garnish. Whether it is consumed straight or in a Gin and Tonic, the cucumber is the perfect addition to this delicious spirit.
The reason the cucumber is such a signature to Hendrick's Gin is that it really brings out and highlights the citrusy notes of the beverage. It helps to distinguish this brand from others by making the cool, citrus flavors the most prominent aspect that the drinker is tasting.
Of course, it also goes well with the subtle cucumber undertones found in the flavor.
You now may be wondering how exactly this garnish should be styled or consumed. There can be some variety here, but there are some common ways that people suggest work best for this beverage.
Many like to cut the cucumbers into small rounds floating in the beverage, either infused solely with the gin or with the gin and tonic combination. This emphasizes the cucumber taste with each sip and is an extremely calming and thirst-quenching beverage.
Others love adding the cucumber garnish "as a twist", much like lemon is used to garnish some martinis. You can peel the cucumbers into very thin slices before adding them to the drink.
Both ways will have similar flavors, but making a drink with a twist can add some exciting visual flair to your beverage.
Keep It Icy!
It may seem silly to emphasize this, but it is truly essential that Hendrick's Gin be consumed within a glass filled with ice.
It is meant to be a cool, refreshing drink, and it would be somewhat of an alcohol faux pas to drink Hendrick's in a lukewarm glass.
Many people prefer crushed ice, while others like to stick with classic ice cubes. The result will be the same and it is truly preference at that point. All that matters is that the gin is icy so that it can be as crisp and cool as it is intended to be.
However, with crushed ice, your drink will be diluted much faster than with regular ice cubes.
Another fun thing you can do is try freezing your cucumber slices. These will be your garnish anyway, and since cucumber consists of a lot of water, they can be frozen.
You can substitute these frozen cucumber slices for your ice cubes, but keep in mind that a frozen slice of cucumber will give off fewer flavors.
Drinking Hendricks Gin Straight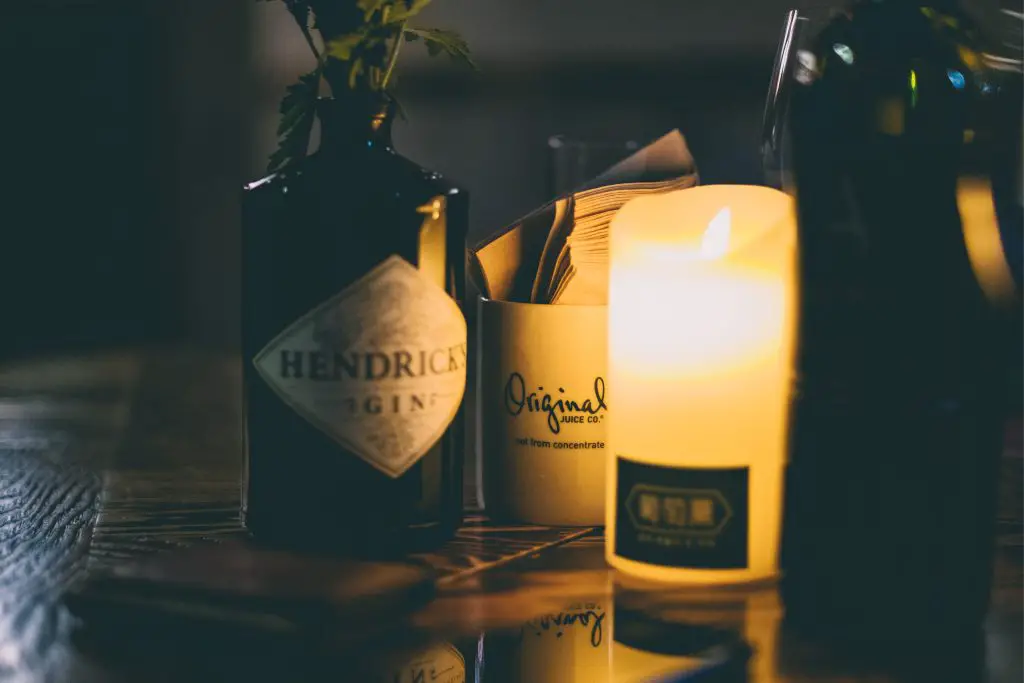 For those who are true gin fans and consider it ideal to drink gin straight, Hendrick's Gin is a perfect choice. The flavors are delicate and most do not find it too intense to sip in a cold glass on its own.
Even those who are a bit weary to drink any liquor straight may find that a Hendrick's Gin is an exception. 
As mentioned previously, the ice and cucumber garnish is super important for drinking Hendrick's at all, but particularly when drinking it straight. The frozen ice and hydrating cucumber make Hendrick's shine as you sip and enjoy a warm breeze. 
For those who are fascinated by different and unique combinations of botanicals used in modern gin creations, Hendrick's is definitely a treat.
The notes in Hendrick's are pretty pronounced, and each sip takes the drinker on a vast journey through its diverse and crisp tasting notes.
As previously mentioned, if you are the type of person who would like to explore drinking gin straight, but are worried it will be too strong or intense, Hendrick's is a great gin to start this journey with.
Try it on a warm sunny day, and you won't even realize you're sipping a spirit neat, as it is so refreshing and invigorating.
Some Other Common Variations
While the above-mentioned variations are the best and most common ways to serve and consume Hendrick's gin, there are many other fabulous and popular cocktails beyond the classic Gin and Tonic that Hendrick's fans all over the world swear by.
The most popular variation, endorsed by the Hendrick's Gin brand themselves, is the Cucumber Lemonade cocktail. It is a recipe that is pretty similar to the above-mentioned standard Hendrick's drinks, with some unexpected, citrusy, and sweet twists.
For those looking for a simple yet impressive cocktail recipe, this will be the perfect fit. It is made using the exact same setup as before: in a highball glass with lots of ice, about 50mL of Hendrick's, and garnished with cucumber wheels.
The difference lies in the fact that this drink is combined with about 20mL of simple syrup and 20mL of lime juice and then topped with soda water or tonic.
Finally, the garnish is improved upon with a single wheel of lemon. The result is a delectable and fresh cocktail that is relatively simple to make any crowd happy.
Final Thoughts
Part of the reason Hendrick's Gin is so popular and beloved is that it is so simple in its presentation. The way it is best served is extremely easy to prepare and enjoy.
Hendrick's Gin is a consistent and dependable spirit that is a great choice to keep stocked in your liquor cabinet all throughout the spring and summer.
You'll never have to scramble at the last minute to buy complex ingredients for a fancy cocktail or simple mixed drink. Hendrick's adds a touch of class, sophistication, and cool nonchalance that is simply not replicated in any other gin brand on today's market. 
We are sorry that this post was not useful for you!
Let us improve this post!
Tell us how we can improve this post?