The 14 Best Lemon Gins (Crisp And Refreshing)
Gins are amazing for mixing in cocktails, but sometimes you just need a little something extra aside from the classic juniper based gins.
Flavored gins like lemon gins could be a great option in that case. But what are the best lemon gins on the market right now?
What Is A Lemon Gin And How Does It Taste
Flavored gins are becoming more and more popular every day for the last few years. A few very popular flavored gins are for instance blood orange gins, pink gins, and violet gins.
Gin's popularity, in general, has been rising a lot in the last 10-20 years, so people are starting to look for new variations to their classic gin cocktail.
Brands are trying to be more innovative and are trying to keep up with the increasing demand for different kinds of gin. One of those new flavored gins is lemon based gin.
Citruses in general were already a quite commonly used botanical in gin, pretty much every dry gin contains citrus botanicals. Only recently, however, have brands been incorporating lemons specifically more and more into the main flavor palate of their gin.
A lemon-based gin is most often based on the base gin recipe of a specific brand, but in this case with more added lemon notes. The recipe of this classic gin is then slightly altered to fit the flavor palate of the added lemon notes more.
This way you get a nice lemon-flavored gin that is somewhat more crisp, sweet, and refreshing than a typical gin, while the strong juniper notes are still very much present.
If you think about it's actually quite logical to distill a lemon-based gin seen as a pretty commonly used garnish in gin cocktails such as a gin & tonic is actually lemon peel. Lemon gins are often a bit sweeter than standard gins like a London dry gin.
They contain more citrusy notes and are often perceived as a bit more easy-to-drink and refreshing than other gins. This, however, goes more for the people who don't really enjoy the classic piney and dry taste standard gins offer.
Best Lemon Gin – Tried & Taste Tested in Different Ways
For people who want to try a different, sweeter, and more citrusy take on their favorite gin & tonic, or for people who are less into the standard gins, a lemon-based gin could be ideal! But what exactly are the best lemon-based gins right now?
Below we list our top picks for the best lemon gins on the market right now in no particular order.
Sipsmith Lemon Drizzle Gin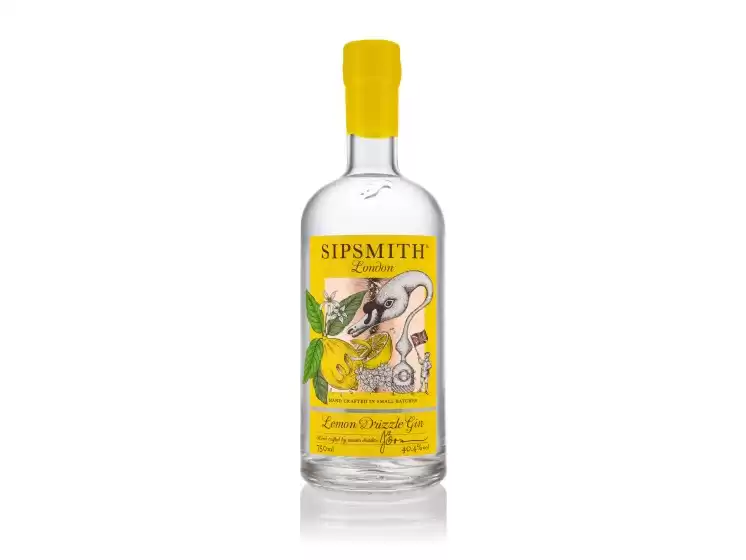 Sipsmith offers a wide variety of different gins that are pretty much all amazing. From their classic London dry to their Orange & Cacao, you can't really go wrong with this brand at all.
Sipsmith has only really been distilling since 2007, but this was right at the start of the returning rise in popularity of gin. That can't be a coincidence, right?
Like all of Sipsmith's flavored gins, the Lemon Drizzle gin is based on the recipe of their London dry gin. The Sipsmith London dry gin is a complex gin that is rich with aroma. The spirit is extremely smooth but also very rich in taste.
The Lemon Drizzle variation to their London dry gin gets an added layer of sweet, sun-dried lemon peels to the base gin.
On top of that is lemon verbena to sweeten up the aroma. Hand-peeled lemon is infused with the other botanicals of this gin to form an amazingly floral, refreshing drink.
On the nose, you immediately notice the citrus twist to this gin with some added sweetness. The spirit is refreshing, but it comes paired with a warm vanilla feeling and finishes with bright and warming licorice.
A gin & tonic with lemon as a garnish would be perfect with this lemon variation gin, but another fantastic option would be the Lemon Drizzle 75.
For this cocktail, you'll need Sipsmith's Lemon Drizzle Gin, freshly squeezed lemon juice, simple cane syrup, champagne or prosecco, and a lemon twist.
---
Malfy Con Limone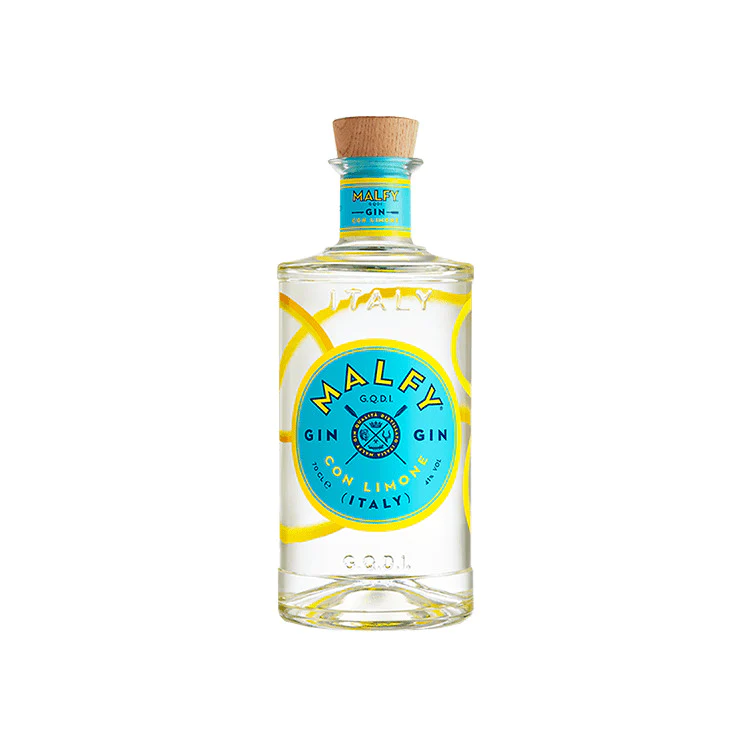 Malfy, originating from the Amalfi Coast in Italy, is an extremely popular gin brand that mainly focusses on its three flavored gins.
Flavored fruity, sweeter drinks are probably one of the best things to enjoy when you're on vacation in a warm country in the summer. This drink will resemble that feeling and will immediately bring you back to a nice terrace in the sun when you drink it.
Malfy's lemon gin and their grapefruit gin are considered to be one of the best, if not the best, lemon and grapefruit gins on the market right now.
Their blood orange gin is also an amazing, sweet variant to their classic dry gin, but that one's maybe a little less known.
The Malfy Gin Con Limone has a more zesty aroma with juniper scents around it. Aside from the lemons that are used in the distillation of this gin, extra Amalfi lemons are added to this distillation step.
This double-up of two different kinds of lemon creates a long lemon zing that is incredibly refreshing.
If you're looking for an amazingly sweet, and extremely refreshing drink, you can't go wrong with the Malfy Gin Con Limone. This drink is sure to bring you the summer vibes you're looking for.
---
London Distillery Six Bells Lemon Gin
The City of London Distillery opened on the 20th of December in 2012 and was the first distillery in the city of London to open for almost 200 years.
Even though mainly London dry gin was becoming more popular at that time, The City of London Distillery decided to spice things up with different kinds of gins and botanicals to bring more variety to the gin market.
In 2018 the distillery launched its Six Bells Lemon Gin, which was named after a classic nursery rhyme 'Oranges and lemons, say the bells of St. Clement's.
Aside from this amazing gin, they also distill a few other flavored gins like Murcian Orange gin and Rhubarb and Rose gin.
The main focus of this gin was to still stay with the juniper-forward gin but to add a little something extra to it. On the nose, the lemon is quite aromatic and very present, while it doesn't overpower the juniper at all. Hints of honey are noticeable scents as well.
The palate contains layers of lemon, some orange, and a bit of grapefruit over the backbone of their standard dry gin. Also strong piney juniper on the tongue combined with slight earthy notes, with a nice lemon finish.
All in all, this makes for an amazingly refreshing bright summer gin.
---
Gordon's Sicilian Lemon Gin
Gordon's is always a great option if you're more on a budget while you would still like to enjoy a great gin. Alexander Gordon began distilling in the 18th century and the recipe for their base London dry gin has stayed more or less the same throughout all those years because it is simple yet great in taste.
The Sicilian Lemon variant to the classic London dry gin offers a zesty variation with some of the best lemons (Sicilian lemons) in the whole world added to the recipe.
While their goal is to balance the original recipe and its strong juniper-forward taste with the zesty and refreshing taste of the lemons, some would argue that the lemon taste is too strong and overpowers the drink a bit.
This can, however, be a good thing. Especially for people who are not too big on the whole piney taste juniper offers, this gin could be a great first gin to use in their gin & tonic and to get used to the taste gins offer.
If you're a big fan of strong juniper notes, however, your best bet would be to try to drink this gin neat or this gin might disappoint you a bit. The juniper notes are a bit toned down but are still present if it's consumed neat.
If you want to know how to best drink gin neat, we've got you covered with a great article.
---
Flavoursmiths Sicilian Lemon Gin
Flavoursmiths offers another Lemon gin with amazing lemons from Sicilia. Flavoursmiths is known for its wide range of flavored gins ranging from Parma Violet to Pink Grapefruit to Raspberry to Cucumber gin.
All of these gins are really nice options for variations to a standard gin or gin cocktail.
While Gordon's Sicilian Lemon gin was quite heavily lemon-flavored, the Flavoursmiths version is a bit more balanced. With this gin, you still get a nice and refreshing drink with zesty elements from the Sicilian lemon.
The spirit also maintains a peppery warmth with piney juniper notes.
The drink is fragrant with a lemon aroma at first. Earthy and piney juniper on the nose combined with leafy coriander. The finish is bright and fresh and leaves you with an amazing summery feeling.
---
Flavoursmiths Lemon Peel Gin
Aside from the aforementioned Sicilian Lemon gin from Flavoursmiths, they also released another lemon-based gin called the Lemon Peel gin.
As the names suggest, both gins are lemon variants of a classic dry gin, and therefore both try to accomplish about the same goal, but with little variations in between them.
On the nose, it's fresh lemon right up front, with juniper in the background. These scents are paired with hints of cinnamon resulting in a very pleasant aroma.
Just like the Sicilian Lemon gin, this gin stays close to an original gin by keeping crisp juniper notes at its core.
These go accompanied by some zesty refreshing citrus notes and hints of red fruit making for a bit sweeter version of the Sicilian Lemon gin.
Both the Sicilian Lemon and the Lemon Peel variants are amazing options if you're looking for a lemon-based variation to a traditional gin.
The Lemon Peel version is a bit less lemon-forward and somewhat more sweet than the Sicilian Lemon, while both gins do a great job of keeping juniper at the center of the taste palate.
---
Lemon Grove Gin
Lemon Grove gin is a gin from a brand called The English Drinks Company. This brand only started distilling gin in 2016, but they've already managed to come up with a great arsenal of different gins, their first gin being a Cucumber gin.
Other gins in their range are for example a traditional London Dry gin, a Lime Tree gin, a Classic Pink gin, and of course their Lemon Grove gin.
It's safe to say that the English Drinks Company has quite the experience in distilling flavored gins and it shows!
While their London dry gin was only crafted recently (later than the Lemon Grove gin), juniper notes are still present enough in the Lemon Grove gin to convince gin lovers to use this spirit for their gin & tonic.
For newcomers to gin, this is also a great option because it's extremely easy to drink and has a nice and smooth finish.
---
Whitley Neill Lemongrass & Ginger Gin
Whitley Neill is quite a popular gin brand and has been around for an incredible amount of time already. Their gin distillery has been in the family for 8 generations and over these years they've come up with an amazing range of gins.
Ranging from their 'The original' gin to other more unique gins like Rhubarb & Ginger, Blood Orange, Pink Grapefruit, and of course their Lemongrass & Ginger gin.
You can't really go wrong with any of the Whitley Neill gins, they've got a gin for every occasion you could think of.
While this gin isn't exactly lemon-based as the name might already suggest, it's still got quite a similar flavor palate as any of the other gins on this list. Lemongrass is not the same as citrus 'lemon', but their tastes are a bit similar.
The lemongrass in this gin is combined with ginger to make it a warm variation to the other lemon-based gins out on the market already.
These two botanicals are paired with other spices and exotic herbs, some of which were found on Frederick Neills' voyage through Asia.
This gin is sure to be distinctive from the other lemon gins on this list, but still holds a nice zesty aroma and citrusy taste.
---
Monkey 47 Dry Gin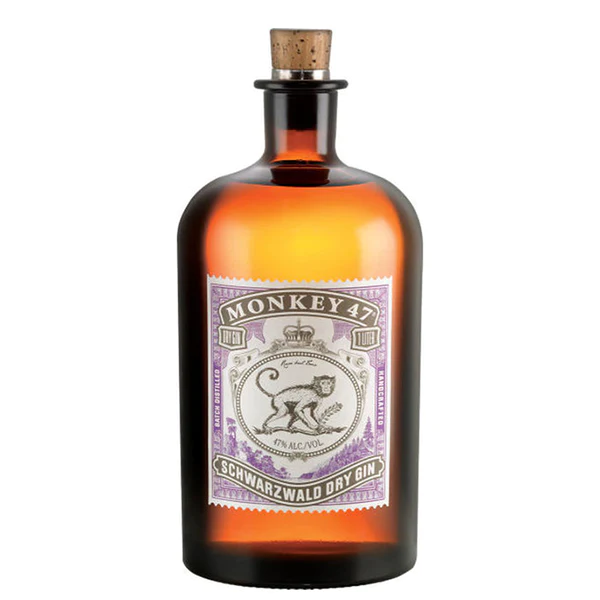 To stick with the theme of not really lemon-based gins that do resemble the same taste palate of lemon-based gins, we have to think of Monkey 47.
Monkey 47 is quite an unusual gin brand based in Germany. The number 47 comes from the 47 different botanicals used in their gin.
These botanicals originate from different regions of the world ranging from Britain to India to the Black Forest. With this amount of handpicked botanicals used in a gin, you're bound to create a pretty complex flavor palate.
Due to the fact that these botanicals are all carefully handpicked and distilled in extremely soft spring water from the Black Forest, this spirit is of superb quality.
If you see this bottle, you would agree that it doesn't look like this would be a citrusy-flavored gin at all. It looks more like a rough version of a gin or maybe even a barrel-aged gin.
Surprisingly enough this gin amazes you with a zingy feel with lots of lemon and lime present upfront.
Even though they used 47 different botanicals, juniper is still the main ingredient and is therefore still pleasantly present in this gin, which is great news for gin lovers.
---
Warner's Lemon Balm Gin
Warner's Distillery started in 2012 with a dream to save the world from mediocre gin. With their passion to create the best and highest quality gin through hard work and dedication, they work hard with a smile to get you to 'Drink Different'.
Warner's Distillery creates a wide range of different kinds of gin and 0% gins. Aside from their London Dry and Harrington Dry, some standout flavored gins are Honeybee gin and Rhubarb gin.
Their Lemon Balm gin contains, among other more standard botanicals, hand-picked lemon balm, lemon verbena, lemon thyme, lemon peel, and bee pollen.
As you may have noticed, they use a ton of different lemon parts to really capture the lemon flavors as much as possible.
Another interesting botanical is bee pollen. This is quite an uncommon botanical and it also means that contrary to pretty much any gin, this gin is not suitable for vegans.
This gin is a bit more herbaceous than other gins on this list and therefore it has quite a nice aroma to it. On the tongue, you notice the honey and some zingy lemon with a smooth and lasting finish of pink pepper, citrus, and soft lavender.
---
LoneWolf Cloudy Lemon Gin
LoneWolf partnered up with Brewdog for this amazing lemon-based gin. LoneWolf is a rather small gin brand with a quest for the perfect spirit. They've made a few different gins already with Cactus and Lime gin and the Cloudy Lemon gin among them.
Brewdog is actually a brewery for craft beers with a mission to make other people just as passionate about great craft beers as they themselves are.
LoneWolf and Brewdog have partnered up a few times already for a few other gins, and they are absolutely great!
The spirit has a vibrant yellow color to it which kind of makes it look like gin liqueur. Cloudy Lemon gin is not a liqueur at all, however, with its 40% ABV, it's a bit higher proof than some other lemon gins and therefore packs a bit more of a punch.
The citrus notes in this gin are quite strong and will feel amazing on the tongue. It still remains a gin with its strong juniper flavors which means that this drink is great for both people who enjoy a good gin and for people who want to try something different from their traditional gin.
---
Chesterfield Lemon Sherbet Gin
Derbyshire Distillery is a relatively young distillery that only started in early 2018. They aim to create the most amazing gins, vodkas, and liqueurs using high quality local and international ingredients combined with fresh, cool Derbyshire.
Their range of gins consists of a dry gin, a master blend dry gin, a pomegranate gin, a cherry gin, and a mojito gin among a few other exceptional gins.
Their base gin, the Chesterfield London Dry gin is a wonderfully smooth gin with great hints of piney juniper.
The Lemon Sherbet is a zest and sweet variation to this smooth London Dry gin. They basically use all the same botanicals as in the London Dry gin but with a lot of added lemons to the distillation.
This gin is definitely a sweeter gin compared to other lemon gins.
The juniper is still present and it makes for a pleasant smooth drink, but it is a bit sweeter, so if you're mixing it with tonic or soda water, don't add too much or it will probably be too sweet.
---
Finders Lemon & Lime Gin
Finders Spirits was born out of years of experience in the drinks market. With a passion for spirits, they decided that it was time to break the traditions and challenge the norm for spirits.
While doing so they think about the environment by minimizing energy use, recycling, and re-using waste, so the distillery is as eco-friendly as possible.
Along a range of gins, Finders also distills other spirits such as rum and vodka. Most of these spirits are flavored spirits and try to set themselves apart from the norm with some more uncommon ingredients.
The Lemon & Lime gin from Finders is a lively gin with a strong citrus tang. The key botanicals in this gin are lemon peel and lemon balm, anis seed, and pine needles.
Especially pine needles are a botanical not often found in gins, but it makes a great earthy peppery addition to the gin.
The perfect serve for this gin according to their website is paired with an elderflower tonic with a twist of lemon & lime. A lemon drop Martini or a Gimlet is also a fantastic option for this gin.
---
Foxdenton Lemon & Cucumber Gin Liqueur
The last spirit on this list is not exactly a gin, but instead, it's a gin liqueur. This mainly means that the Alcohol By Volume or ABV of this gin is lower than 37.5% which is the required amount for gin.
Also, most gin liqueurs tend to be a bit sweeter than standard gins and they don't need to be as juniper-forward as a real gin.
Foxdenton is a family run company that specializes in the production of English fruit gin liqueurs and London Dry gin. Their aim is to make great seasonal drinks based on traditional recipes while using British fruit.
The Lemon & Cucumber gin liqueur is fantastic for a nice and summery drink. This spirit is definitely a way sweeter version than standard lemon gins due to the fact that it is a gin liqueur (read our simple guide on the differences between gin and gin liqueur) and not a normal gin.
There's a small hint of juniper in this liqueur which is a great addition to any summer cocktail. You should definitely give this gin a try in a classic gin & tonic. 
---
Final Thoughts
The best lemon gins in our list are all made of premium ingredients and come with a distinctively deep and crisp taste. Try them out if you haven't. They will become your new go-to drinks whenever you want to chill at home or party!
We are sorry that this post was not useful for you!
Let us improve this post!
Tell us how we can improve this post?