What Are The Best Pink Gins (12 Best Pink Gins To Try Out)
Pink gin is a spirit that has been around for quite some time now, but its popularity has only been rising more recently.
The drink is loved by a wide variety of people ranging from gin experts to people that are not big fans of traditional gin. But what are the best pink gins right now? Which pink gin should you try out next?
What Is Pink Gin
To answer the questions asked above, we need to know what exactly a pink gin is. We wrote a whole article where we explain very in-depth what pink gin is and how it tastes. But we'll give a brief summary in this article.
Pink gin is basically the same as a normal gin except for the fact that the drink isn't clear but has a pink hue. Most of the time, pink gin is also a bit sweeter than a normal gin. Pink gin is usually flavored and colored by adding pink or red botanicals to the last infusion or by adding these botanicals after the last infusion.
Pink gin has only really become quite popular in the last few years, but it's been around for many years now. Below we explain how this gin originated and how exactly it's made.
To create a pink gin, you first need to make a normal gin. Gin is a neutral grain spirit, like vodka, with the big difference being that the main flavor in gin has to come from juniper berries.
Aside from using juniper berries, a ton of other botanicals can be used by gin distillers to give every gin a unique taste pallet. There are a lot of very common botanicals, as well as a few that are not as commonly used.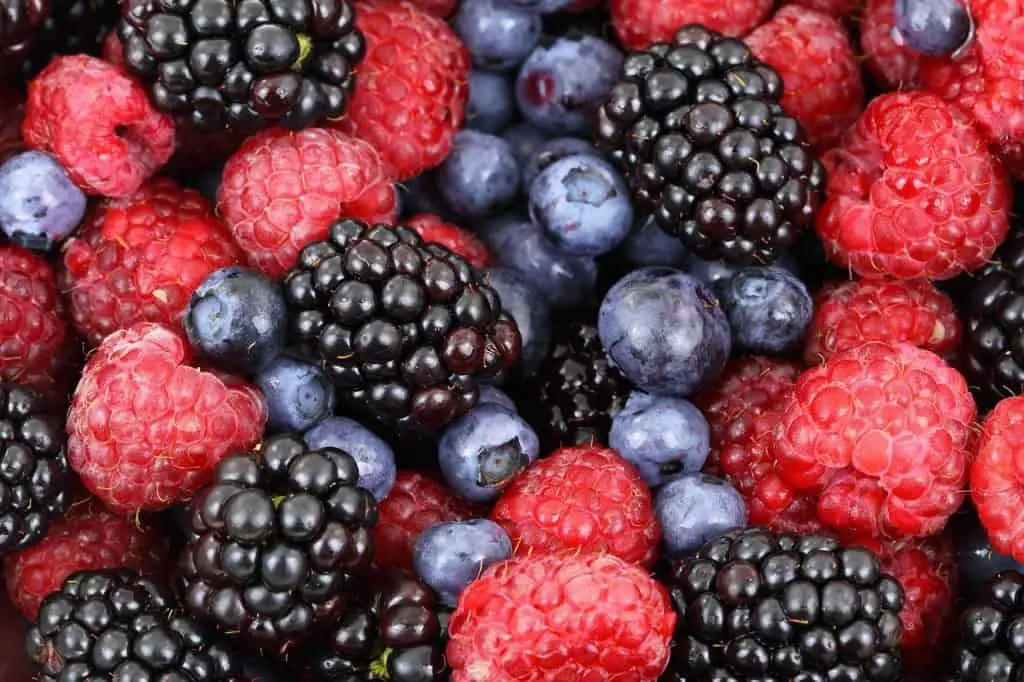 Pink gin originated in the 19th century in the Royal Navy. The Royal Navy used to consume Angostura bitters as they were believed to help cure seasickness.
To make these bitters a bit more enjoyable, the navy added Plymouth gin, which is a sweeter kind of gin, to the Angostura bitters. Because these bitters are dark red, they turned the gin to a light pink color once they were added to the drink.
The Royal Navy took this recipe home and it quickly became popular on the mainland. Bartenders started to create this cocktail, which only consisted of Plymouth gin, water, and Angostura bitters, and served it to their customers.
Soon after they also began creating other variations of gin cocktails with their pink gins.
Nowadays pink gin is rarely ever made with Angostura bitters. It doesn't really matter how pink gin gets its color, as long as it's a normal gin with a pink color, the drink can be considered a pink gin.
Most of the time, the pink color in a pink gin comes from the botanicals that are used to flavor the gin. A few popular botanicals used to create pink gin are rhubarb, pink grapefruit, strawberry, raspberry, rose petals, and red currants.
Normally, botanicals that are used to flavor the gin are added to the drink during distillation. To give the clear spirit the pink color, however, these botanicals are added after distillation. This way the drink turns to a vibrant pink.
Pretty much all of the botanicals that are used for pink gin are not only responsible for the color, but also for the taste. These botanicals make the gin a lot sweeter than a normal gin. This makes the drink a bit more accessible for non-gin lovers.
If you're looking for a great pink gin to try out, it might be a bit difficult right now, seeing as there are a ton of different brands to choose from these days.
To make your search a little bit easier, we've created a list of 12 of the best pink gins on the market right now, in no particular order.
1. Gordon's Premium Pink Distilled Gin
Gordon's premium pink distilled gin is by far one of the most popular pink gins on the market as of now. This gin added over 83 million euros to Gordon's sales in the first 12 months of its release in 2017.
Gordon's is a very well respected and popular brand in the gin industry. Its gins are of great quality and their prices are really affordable. You can't really go wrong with Gordon's gin and that goes for their pink gin variation as well.
There are two versions of Gordon's pink gin. One of them is 30% Alcohol by Volume (ABV) and is only sold in the US, the other has an ABV of 37.5% and is sold in the UK. The higher ABV of this version is the main difference between these two gins, but the 30% is a bit more citrusy as well.
On the nose, this gin is vivid and bright and it brings strong notes of strawberry, raspberry, and redcurrant. Next, you'll taste the base Gordon's gin with a strong juniper taste, making for a crisp, sweet and floral spirit.
Gordon's pink gin is amazing to drink on its own because of the sweetness of the added fruits, but it is best served in a cocktail like a gin and tonic.
2. Beefeater Pink Gin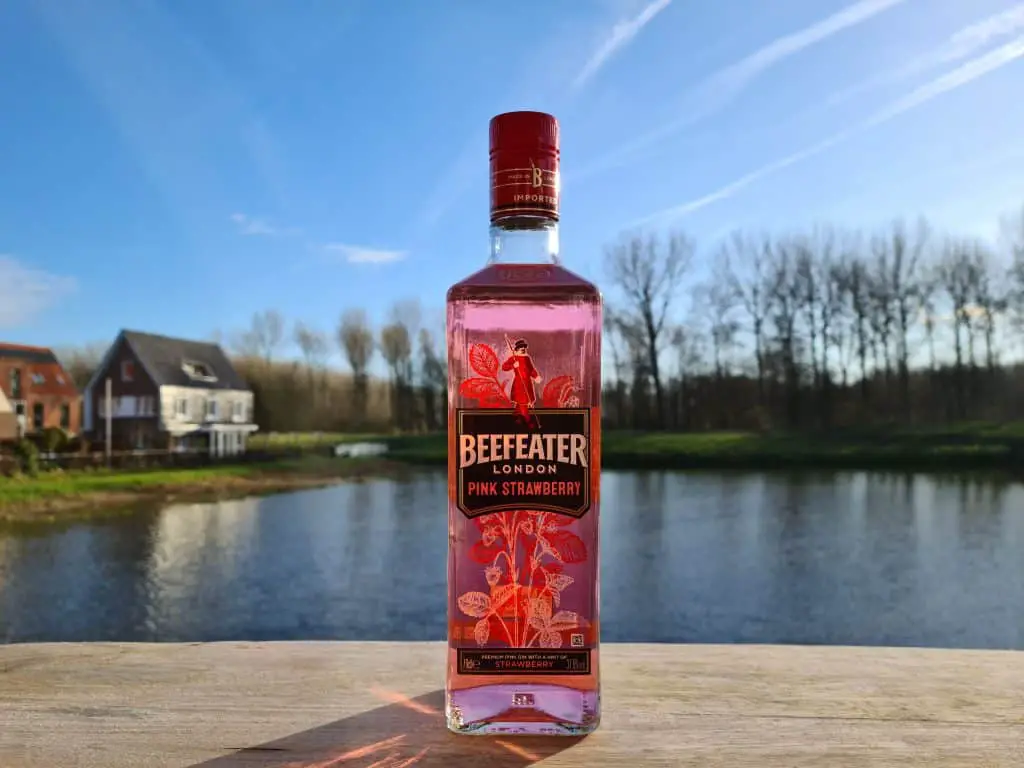 Beefeater is, like Gordon's, an extremely popular and well-respected brand in the gin industry. They make an amazing London dry gin and their other flavored gin, the blood orange gin, is also one of the best on the market right now.
Beefeater pink gin is built off of their standard London dry gin and therefore consists of a lot of the same botanicals like lemon peel, coriander seed, angelica root and seed, almond, and licorice.
Aside from these basics, the pink gin also contains natural strawberries to add a delicate fresh flavor.
This gin really benefits from having a base gin which is already one of the best out there right now. Even though it's a bit sweeter than a typical London dry gin, you still really notice the strong juniper notes in the drink.
On the nose, this drink is quite floral and fruity. The strawberry immediately brings a lot of sweetness to the first sips. But this sweetness is perfectly balanced with citrusy notes and juniper berries.
If you're a bit of a sweet tooth you might like to try the cocktails Summer Pink Punch, the Pink Fizz, or the Pink Daiquiri. However this drink is sweet enough on its own, so a simple pink gin and tonic or even a neat glass of this pink gin will be perfect for most people.
3. Manchester Gin Raspberry Infused
Manchester Gin specializes in flavored gins, with many award-winning gins already in their arsenal. Even their standard gin, the Signature, has won many awards over the years, proving that their gins are of great quality.
The Machester Gin Raspberry Infused also has a ton of awards already under its name. This gin is a delicate fruity variation of their Signature Gin. It is based on the recipe of their standard gin with added raspberries to it, making for a sweeter yet delicate version of it.
On the nose, this gin has strong raspberry scents alongside a citrusy and juniper trace. The taste has a clear traditional gin character with piney juniper notes, but it's a bit sweeter and fruitier due to the added raspberries.
This spirit is great in summery and refreshing cocktails and mixed drinks, but also works amazingly well if splashed in a glass of champagne!
4. Pinkster Gin
Pinkster gin specializes in a pink gin also made with raspberries, just like the Manchester Gin's spirit. Before 2020 they didn't even sell their base gin on which their raspberry version is based. They call their base gin a Triple Juniper Gin and say it's a lockdown special.
Their raspberry gin, which came out in 2013, well before their base gin did, is made by steeping fresh raspberries in the spirit. This gives it its beautiful but subtle pink hue and its fruitiness.
Fun fact, the raspberries used in this gin aren't thrown out after providing this gin with sweetness, they are used again to create Pinkster's Boozy Berries and Gin and Jam!
On the nose, this gin provides a scent of orange peel and angelica with a subtle raspberry in between. It tastes fruity and it's balanced with black pepper and a gentle spice. This way, the sweet raspberries don't overpower the crisp juniper berries that a gin is supposed to have.
Drinking this gin neat is great for gin lovers because it's not as sweet as other pink gins might be and it still has a somewhat dry feeling and strong juniper tastes.
Otherwise mixing it in a classic gin and tonic with some raspberries and fresh mint as garnish is a great way to enjoy this drink.
5. Gin MG Rosa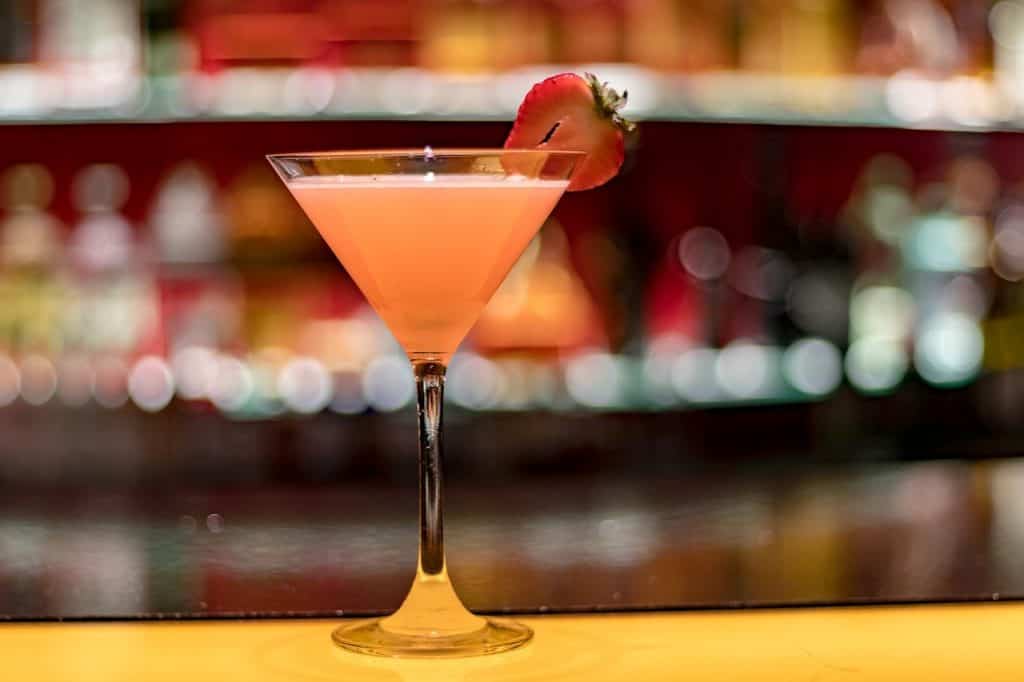 Gin MG is maybe not the most popular gin brand out there, but its pink gin is exquisite. This gin hails all the way from Spain and is made with all-natural products, contains no artifacts, no additives, and no taste enhancers.
The base gin, the Gin MG Clásica, has abundant scents of juniper and wet grass. It is somewhat sharp, but it's very balsamic with hints of resin. To create the Gin MG Rosa, the strawberry syrup is added to their Clásica.
The strawberry version gives a fine strawberry scent, combined with a juniper and a pleasant citrus note. In the mouth, it's smooth and fresh with the sweet characteristics of strawberry. It has a round and smooth, elegant finish to it which lasts a long time.
This spirit is recommended to be consumed as a nice summery and refreshing, gin and tonic, done with a Spanish twist.
6. Edgerton Original Pink Gin
Edgerton Distillery is a fairly new gin distillery, only dating back to 2010. However, the Edgerton family has been distilling gin since the 1700s.
The owner, Martin Edgerton Gill, quickly realized that the success of spirits is mainly based on their taste of them. Color only plays a small role in its success.
This motto promises a high-quality gin, which the Edgerton Original Pink Gin really brings. The gin is made with pomegranate and looks and smells quite similar to other pink gins on the market. It might surprise you that it's actually unquestionably different from a standard pink gin.
On the nose, this gin is very sweet and fruity due to the addition of the pomegranate after the distillation. The taste however is extremely harsh with overwhelming heat.
This heat is mainly due to the relatively high ABV of a whopping 47%. There's a slight note of juniper berry noticeable, but this is quickly overwhelmed by the high ABV and the sour finish of the drink.
This gin is really not meant to be drunk neat unless you enjoy an extremely strong and harsh gin of course. The botanicals used in this gin are best perceived in a mixed drink like a gin and tonic. The sour finish of the gin is balanced by the sweet and bitter tastes tonic offers.
At first, the gin might be too overwhelming, but this shouldn't make you give up on it right away. You can experiment a lot with this gin in all kinds of different cocktails to try and see how you enjoy it most.
Not only is it superb in combination with sweeter and more bitter sodas, but it also looks amazing due to the pink color it gives to your cocktail.
7. Gin Lane 1751 'Victoria' Pink Gin
Gin Lane 1751 distills gins in a classic Victorian style, which originates from an age where the taste of juniper berries was predominant.
There is even a hint of licorice and the finish consisted of a refreshing citrus taste. Even the bottle has a very pretty and kind of Victorian vibe to it.
Gin Lane 1751 produces three different kinds of London dry gins and one pink gin. They distill one traditional London dry gin, one lighter less intense version of the London dry gin, and one London dry gin with an ABV of 47% called the 'Royal Strength'. Their pink gin is based on the recipe from their traditional London dry gin.
The 'Victoria' pink gin has a smooth, floral taste. The juniper berries offer a bit of a peppery flavor to the gin. It also contains sour hints of Seville oranges.
Overall this gin is a refreshing drink with a spicy finish. A great suggestion on how to use this spirit would be in a cocktail like a Clover Club.
8. Burleighs Gin Pink Edition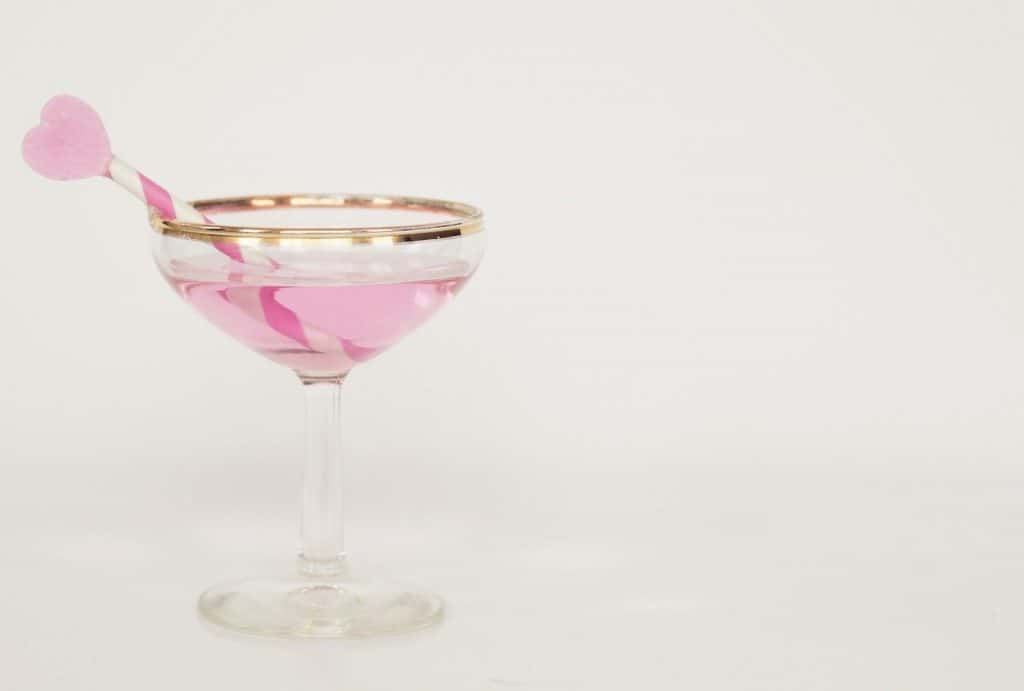 Burleighs Gin Pink Edition is a limited-edition gin. Only 600 bottles were ever produced. This drink was inspired by a trip the master distiller made to Tokyo during Hanami (a Japanese tradition where you enjoy the beautiful flowers of the cherry blossom when they are in full bloom).
As you might expect, the recipe for this gin contains cherry blossom, which is quite unique. Aside from cherry blossom and the other 11 botanicals from their classic gin, hibiscus, rose and pink grapefruit are added to this recipe.
On the nose, this drink is zesty with a floral scent. It also has vibrant grapefruit and rose scents. The taste consists of piney juniper, well-balanced with sweet hibiscus and cherry blossom, and zesty grapefruit.
This drink is best enjoyed in a nice gin and tonic with Fever-Tree Indian Tonic Water and a wedge of pink grapefruit as a garnish.
9. J.J. Whitley Pink Cherry Gin
The Whitley and Neill families have been producing spirits like gin and vodka since 1762! The family was always well-known for patrolling through their gardens while looking for the best and newest flavors to use in their spirits.
While doing so, they created J.J. Whitley's range of London dry gin, Elderflower gin, Pink cherry gin, and Violet gin, along with a few vodkas.
As you can imagine J.J. Whitley specializes in flavored gins and vodkas. Their Pink Cherry gin is based on their recipe of the London dry gin, but with added cherries, among other botanicals.
The Pink Cherry gin is a very sweet sugary drink with fresh orange and almond aroma. It tastes sweet, leading into marzipan with a bit of sourness and pine from the juniper berries. Even though it's called 'Pink Cherry' the cherry taste is not extremely noticeable.
Overall it's a nice drink with a vibrant pink color that would do great in a classic gin and tonic. But if you're really looking forward to a cherry forward taste pallet, you'll most likely be left a bit disappointed.
10. Musgrave Pink Gin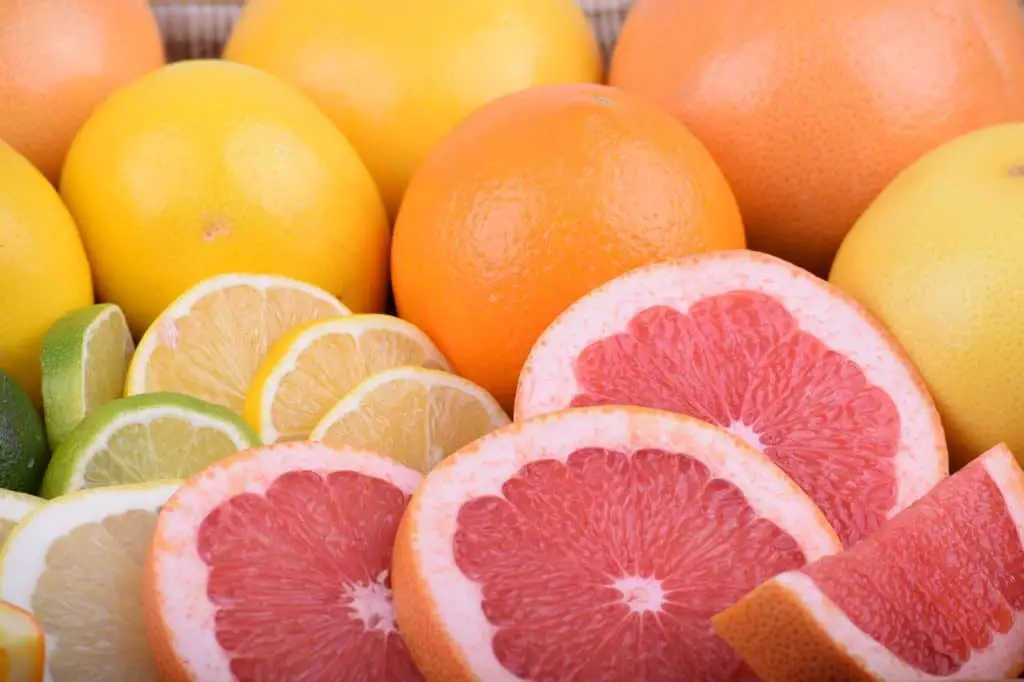 Musgrave Gin (not the pink gin) originated from Africa and is based on the history of Africa and its ancient spice route. Musgrave Gin is not an ordinary drink, it is unique due to its top notes of cardamom, African ginger, and grains of paradise.
Musgrave Pink Gin is based on this same recipe, only here, rose hips are added during distillation, and the aforementioned cardamom, African ginger, and grains of paradise are softened so as to not mask the perfume of the roses.
After this, a further distillation is done with rosewater to add an exotic perfume and flavor to the drink.
On the nose, this gin has a strong aroma of roses. It's also spicy and piney like a traditional gin smell. It tastes warm and spicy with hints of vanilla, pepper, and ginger notes.
This pink gin is a bit less spicy and more floral than their traditional gin. This pink spirit is best served with a premium tonic, a wedge of lime, and a sprig of thyme.
11. Lidl Hortus Premium Pink Gin
Supermarket gin, like the Lidl Hortus gin collection, might not sound super tempting, but it could surprise you how good they actually are.
Lidl's Hortus London dry gin is actually one of the better London dry gins on the market, especially for the cost of the drink.
Because the Hortus London dry performed so well, Lidl decided to create a pink gin, based on their London dry recipe. They infused their standard gin with some other botanicals, the main ones being raspberry and blackberry.
This twist on their juniper-led London dry gin results in a light and fruity aroma. It's a bit sweeter with raspberry and blackberry flavors, which give it a nice finish. This drink is the perfect pink gin for cocktails.
It's amazing as a simple gin and tonic, but it goes great with some prosecco and lemonade as well.
12. Rives Premium Pink Gin
Rives is a spirit brand with a wide variety of different drinks, ranging from gin to rum, to vodka. They distill basic vodkas and gins but also flavored versions of their standard spirits.
Rives may not be as well known as some of the other brands on this list, but it's definitely earned its spot. Rives' Premium Pink Gin is built on the recipe of their Original Gin which consists of nine different botanicals.
These botanicals originate from different parts of the world including the Mediterranean, Spain, and Belgium. To name a few, they use cassia, licorice, angelica, and orris root.
In their pink gin, they make use of the flavors that strawberries from Huelva, Spain have to offer. These strawberries make for a nose that is aromatic and clean with botanical hints from a classic gin.
It tastes sweet with a fresh aftertaste including hints of strawberries.
For the ones with a sweet tooth, this gin is amazing with lemon-lime soda. But if you're not a big fan of a sweet gin drink, a standard tonic will make for a great drink with a touch of strawberry flavors.
Final Thoughts
After going through all the best pink gins in this list, we are sure you will get a good idea about what makes a good one.
These 12 gins have been carefully selected based on their aroma and flavor, so try them out!
We are sorry that this post was not useful for you!
Let us improve this post!
Tell us how we can improve this post?