The Best Gins To Use In A Martini
Gin is one of the most essential spirits in creating cocktails. A very well-known cocktail that requires gin is called a Martini. But what exactly is a Martini and what are the best gins to use while making a Martini?
What Gins Work Best In A Martini
Most often a London dry gin or just a dry gin is used in a Martini. American gins or Old Tom gins are also quite a popular choice in a Martini.
Because of the addition of vermouth to the drink, you don't really need any other sweet additions to the cocktail. That's why it's probably best in most cases to stick to a simple, but high quality, fairly dry gin.
You could spice up your classic Martini from time to time with a different gin with more outspoken flavors, but most of the time a Martini is best if you are able to really enjoy the crisp and fresh piney notes from your gin with a slight hint of sweetness from the vermouth.
Below we list a few of our top choices of gins to use in your Martini in no particular order.
Hendrick's Gin
We start this list off with probably one of the most well-known brands on the market right now. Hendrick's gin is most known for its unique addition of rose petals and cucumber to the infusion.
Because of Hendrick's gin, there are now a ton of different gin cocktails with cucumber as garnish.
The addition of cucumber and rose petals adds a nice slight herbal touch to the classic dry gin while still keeping the strong juniper notes.
When gin brands add other herbal botanicals they can sometimes overpower the gin taste pallet, but Hendrick's did an amazing job of balancing their botanicals, to create a somewhat herbal and sweet, but mostly strong piney juniper gin.
A Martini with Hendrick's gin makes for a bit sweeter and more floral variation to a more standard dry gin. Hendrick's recommends about a 9:1 ratio of their gin to dry vermouth with a slice of cucumber as garnish.
---
Cambridge Dry gin
Cambridge Dry gin is a gin that tries to capture the taste of all four seasons of England. They are extremely serious about distilling the greatest gin they possibly can.
They use all locally grown botanicals ranging from juniper to basil, to lemon verbena, to blackcurrant leaf.
Each botanical is distilled individually so that temperature, timing, and pressure are all tailored perfectly for every botanical to get the perfect flavor. After separate distillation, the distillates are blended together to a pleasant whole.
Cambridge gin doesn't necessarily contain the most extreme or outstanding flavors, but their gin is quite unique still.
The botanicals are all fresh and of high quality and the fact that they distill each botanical individually makes for an amazing gin with super high quality, well-balanced flavors. Any gin lover should at least try this gin once.
---
Tanqueray No.10
Tanqueray is a staple in the gin industry and a lot of people would argue that they make the best gin on the market right now.
Tanqueray's London dry gin is a fantastic option to use in a ton of different cocktails and because of that success, they began expanding their range of gins.
One of these variations to their London dry gin is the Tanqueray No. 10. While the London dry gin is of course an amazing option in a Martini we would also strongly recommend you try the No. 10.
This gin is the only gin to be inducted into the San Francisco World Spirits Competition hall of fame. They use a simple but very well-balanced recipe and distill their gin four different times to get an extremely high-quality spirit.
The No. 10 is a bit sweeter, softer, and more floral than the London dry version Tanqueray offers.
This gin is considered by many bars to be one of the best gins for a Martini. A Martini with Tanqueray No. 10 makes for a burst of citrus. Garnished with pink grapefruit, this drink is smooth, dry, crisp, and a bit sweeter than a standard Martini.
---
FEW Breakfast Gin
FEW Spirits was inspired by the prohibition times in America. After the prohibition, Paul Hletko decided to start distilling different kinds of spirits.
His main focus was on Whiskeys, but later the brand branched out to different kinds of spirits.
FEW makes three different gins and they are all quite unique due to the fact that they're based on whiskeys. They make a barrel-aged gin, but also an American gin which is made using white whiskey, which is essentially un-aged Bourbon.
Normally gins start out as neutral grain spirits, so the fact that FEW uses a base spirit of white whiskey gives the gin a completely unique flavor pallet.
We prefer to use FEW breakfast gin for a martini. The gin starts out with a warm vanilla taste combined with lemon peel.
After this pleasant warm mouthfeel, the profile shifts to strong piney juniper notes. The vanilla makes for a very unique variation to a classic gin, while still keeping the juniper notes required in a gin.
Due to this, FEW American gin is a great variation to your classic Martini.
---
Four Pillars Rare Dry Gin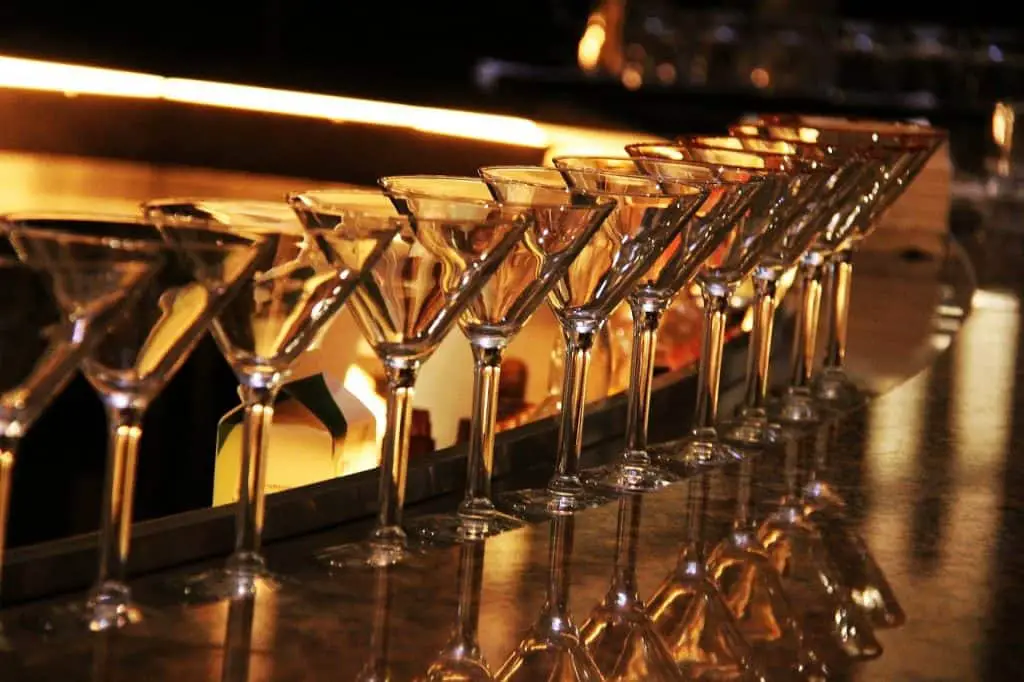 Four Pillars is an Australian brand that has only been around for about 7 years as of now. In this short time, they managed to create quite a name for themselves, with the brand being named the world's leading gin producer by the IWSC in London in 2019.
There aren't a lot of Australian gin brands and the fact that Four Pillars mainly uses local botanicals from Australia makes them quite unique.
Aside from that, they also use whole and freshly cut oranges in their distillation, which isn't done like that very often.
Four Pillars Rare Dry Gin has won a ton of awards over the span of 2014 to 2020. In this gin, they not only use Australian botanicals but also different botanicals originating from Europe and Asia like the star anise and cassia bark.
This gin is spicy and citrusy due to the whole fresh oranges and native lemon myrtle. It's great to mix with all kinds of different cocktails and it's amazing in a Martini of course.
The great citrusy notes really make this gin stand out from other citrus-forward gins on the market right now.
---
Sacred Gin
Sacred Spirits was founded in 2008 and its main focus is on the quality of the gin. During the Gin Craze in the 18th century, there were so many small makeshift distilleries which caused the quality of most gins to go down a lot.
Sacred Spirits tries to bring the quality of gins back and to set small-batch gin distillation in a more positive light.
Instead of the more traditional Pot distillery, Sacred Spirits used a vacuum distillation to better preserve the richness of flavors and aromas of the botanicals.
Aside from distilling a wide variety of different gins like pink grapefruit gin, old tom gin, and organic gin, Sacred Spirits also creates vodka, whiskey, vermouth, and aperitifs.
The Sacred London dry gin is used by Alessandro Palazzi, Head Bartender at Dukes Bar which is world famous for his dry martinis. Palazzi also uses Sacred's own vermouth.
Their recommended dry Martini is based on Palazzi's recipe so it's bound to be an amazing cocktail.
This cocktail requires a chilled martini glass, a few drops of Sacred English Dry Vermouth, and two shots of Sacred Gin straight out of the freezer. A long lemon slice is then used to squeeze a few drops into the drink and garnish the drink.
---
Hernö Gin
Hernö Gin is the first gin distillery ever in Sweden. What once started as a passion for gin grew out to be an award-winning gin brand. Hernö Dry Gin not only won the world's best London Dry Gin but also the world's best gin & tonic.
Aside from their amazing London dry gin, they also distill a juniper cask gin, a navy strength gin, and an old tom gin. All of these gins will be fantastic in a Martini, but their classic dry gin takes the crown here.
Hernö dry gin has a round juniper character on the nose with some hints of floral in between. With its 40.5% ABV, the drink has a rich and fresh, palate with spicy coriander notes.
It contains sweet and warm vanilla notes and finishes with a long-lasting citrus and juniper flavor.
This gin is maybe not the craziest gin out there, but it's an amazing gin in a Martini nonetheless. Due to its great quality of different botanicals and superb balancing, this gin is a must-try in a Martini.
---
No. 3 London Dry Gin
The Berry Bros. & Rudd worked together with Dr. David Clutton (the only person in the world with a PhD in gin) to create a gin that won the World's Best Gin in four different years.
They also used the help of the aforementioned bartender named Alessandro Palazzi in their search for their perfect gin. Their No. 3 London Dry gin is made in a 100-year-old brick-encased copper pot still, based in the Netherlands.
Here they make their pure and clean spirit with an amazing balance of different botanicals including juniper, grapefruit peel, orange peel, cardamom, angelica root, and coriander.
The gin is bright and fresh on the nose with strong hints of juniper. The juniper is also very present in the taste palate. This is accompanied by spicy and warm cardamom and coriander with a few citrus notes. The finish is quite dry and earthy.
While this gin is of course great in a gin & tonic, it's also amazing in a Martini as the quality of this gin is amazing.
---
Nolet's Silver Gin
The passion the Nolet family has for distilling spirits is shown by the fact that the Nolet distillery is the oldest distillery in the Netherlands that is still in the hands of the founding family.
The distillery was founded in 1691 in Schiedam and survived the French Revolution and both World Wars.
Nolet's Silver gin uses a few unique botanicals that weren't used before in the distillation of gin to create a gin for the new generation of gin drinkers.
Among these botanicals are rose petals, peaches, and raspberries. This makes for a more herbal and sweet version of a standard dry gin. This gin is a great variation of a classic Martini cocktail.
While this gin is still close to its roots (both because it is distilled in the Netherlands where gin originated and because it has a lot of strong juniper notes), it's also really fruit and floral-forward.
Nolet's Silver gin is a must-try for experienced Martini drinkers.
---
Beefeater 24
Beefeater is another staple in commercial gin brands. You'll find this brand in a ton of bars and pubs because their London dry gin is one of the best more-affordable gins out there.
It's quite inexpensive compared to some other ins on this list, while its quality remains extremely well.
Aside from their classic London dry gin, Beefeater has started distilling a few other gins as of late. Among those gins are pink strawberry, blood orange, and Beefeater 24.
All of these gins would, of course, be great in a Martini, but especially the latter lends itself greatly to an amazing variation of a Martini cocktail.
With Beefeater 24, the 12 hand-selected botanicals are steeped in London dry gin (just like you would for tea) for 24 hours to create a richer and more sophisticated gin.
Among those botanicals are for instance grapefruit and different green teas.
Steeping these botanicals in the gin results in the gin being more fragrant and a bit sweeter than a normal London dry gin. The gin is quite complex with a ton of variety of tastes due to the 12 different botanicals.
This complexity makes the gin great for mixing with a hint of vermouth to create an amazing but sweeter variation to the Martini.
---
Sipsmith London Dry Gin
Sipsmith is one of the most iconic gins distilled in London and for good reason! Their London dry gin is used by a great number of bartenders all around the world and more and more people are finding out about this amazing spirit.
When the founders of Sipsmith wanted to start distilling gin in their 300 liters still in 2007, they weren't able to due to a law that required a distillery to have a still of at least 1800 liters before being able to obtain a distilling license.
They then started a petition and already in 2008 the law was changed, making it possible for them to distill in small batches of 300 liters at a time.
Sipsmith's London dry gin is zesty on the nose with floral and fresh citrus hints in between. It tastes a bit sweeter due to the lemon and oranges and it packs a strong spicy juniper punch with a crisp, clean finish.
Sipsmith's London dry gin is one of the better gins to use in a Martini due to the amazing quality the gin has to offer. It's also a bit sweeter than some other London dry gins, but without overpowering the piney juniper notes at all.
---
Fords Gin
Fords Gin describes itself as "a gin made for cocktails". When you've tried a gin cocktail with Fords Gin you'll definitely know why they make this claim.
Simon Ford, a former bartender had a ton of conversations with fellow bartenders about a gin that could do it all. None of them could really find a gin that was able to go with pretty much any gin-based cocktail.
So he decided to create the gin himself (with the help of a few other big names). This resulted in a great gin that can be used in a ton of different (if not all) gin cocktails.
Its taste is complex due to a variety of different botanicals but its balance is really nice, which is why every botanical is being expressed at the same time.
Fords gin is very easy to drink especially when combined with a nice vermouth in a Martini.
The juniper notes are strong and clear and extremely well-balanced with the other botanicals including peppercorn, grapefruit, orange, and coriander.
---
The Botanist Islay Dry Gin
The Botanist Islay Dry Gin consists of 9 botanicals commonly used in gins, combined with 22 more unusual botanicals. These botanicals are all hand foraged by the distillers of The Botanist.
A few unusual botanicals used in this gin are for instance apple mint, creeping thistle, chamomile, heather, and mugwort. All these botanicals make for a complex and fairly dry gin that is floral on the nose and quite herbal.
The gin tastes rich and a bit zesty with a hint of spice.
Even though there are a ton of different botanicals in this gin, they are all extremely well-balanced and make for an amazing taste palate. On top of that, the classic juniper notes are still very much present in this gin.
The Botanist recommends a little twist to the classic Martini called the Lemon Balm Martini. For this, you'll need 25mL of The Botanist Islay Dry Gin, 25mL dry vermouth, 25mL lemon juice, 25 ml sugar syrup, and 4 sprigs of lemon balm.
---
Martin Miller's Gin
Martin Miller's gin was founded in 1999, a few years before gin started becoming extremely popular again. During this time they recognized that there was quite a lack of premium quality gins on the market.
Their goal was to create a premium gin with attention to detail.
Martin Miller uses 10 different botanicals which include the classic juniper, coriander, and angelica, but also lime oil, ground nutmeg, and cucumber distillate.
At their distillery, they separate distillation between the more earthy botanicals from the citrus botanicals. After distillation, the two distillates are combined whereafter the cucumber is added to the mixture.
This process creates a soft textured and really well-balanced gin. Citrus notes are very present accompanied by piney juniper notes. The gin is very dry which makes for a great gin to use in a Martini combined with dry vermouth.
Also, the slightly higher ABV causes the drink to be a bit more assertive than some others on this list, which can be quite appealing in certain situations.
---
What Is A Martini
The Martini probably owes a lot of its popularity to the fact that James Bond orders them a lot in his movies. The cocktail is considered an icon of cocktail culture for quite some time already, but its exact origin is unclear.
Some people believe that the name comes from the vermouth brand named Martini due to the fact that this was often used to mix with gin to create a Martini cocktail.
Another theory says that the drink was created in a town called Martinez, California. Over time the name Martinez then slowly changed to Martini.
A classic Martini consists of 2 1/2 ounces (about 75mL) gin, 1/2 ounce (about 15mL) dry vermouth, and some ice. These ingredients are then stirred (not shaken!) and then poured into a pre-chilled Martini or coupe glass. The drink is then garnished with a lemon peel twist or olives.
Sometimes a Martini is made using vodka instead of gin, which could be a great option if you're not a fan of the amazing dry and piney taste gins offer. A classic Martini, however, is made with gin so that is what we'll focus on in this article.
More often than not a London dry gin is used in creating Martinis. This is then mixed with dry vermouth. The brand Martini is quite a popular choice for dry vermouth. Both drinks should be as cold as possible.
This way you don't need to add a ton of ice cubes to the drink as these will only dilute your drink more. If you're not sure if you can put gin in a freezer to keep it cold, we've got a whole article that tells you all you need to know.
After mixing the gin with vermouth, the drink is then stirred, not shaken, contrary to popular belief.
Forget what James Bond has to say about his Martini, it's always better to stir a Martini (or pretty much any other gin cocktail for that matter) rather than shake it.
Only when a Martini is made with vodka, it is okay to shake the mixture. If you'd like to know why you shouldn't shake gin cocktails, then we've got you covered with another great article.
After stirring, this drink is poured into a Martini or coupe glass. It's best if the glass is pre-chilled, for the same reasons as before.
The glass is then topped off with a lemon twist or olives as a garnish to add a little bit of extra flavor to the drink. And on top of that, the garnish also makes your drink look a lot fancier of course.
Final Thoughts
We hope you like our list of the best gins for martinis. Some of these are classics and some are newer. Whichever gin you end up choosing, make sure it is one you can enjoy and appreciate its unique flavor profile!