A London Dry Gin is a staple in the gin world, however, there are many flavored gins on the market as well. So what are the best orange flavored gins?
What Is An Orange-Based Gin
An orange-flavored gin is a gin that's heavily infused with orange, pushing the flavor to the forefront. In addition, a hint of juniper berry will be on the forefront as well, otherwise, it can't be called a gin.
Oranges are universally loved for their sweet, juicy, and fruity flavor. And because oranges taste so amazing, they're commonly used to flavor certain foods and drinks as well.
One example would be an orange-flavored gin. The sweetness of the orange pairs perfectly with the piney, earthy flavor of juniper.
Juniper has to be present in every gin, but there are no rules as to what other flavors you can add. Out of the many different flavors that are used, orange is a rather popular one.
Luckily, there are many amazing orange-flavored gins, which we'll discuss in this article!
Tanqueray Flor De Sevilla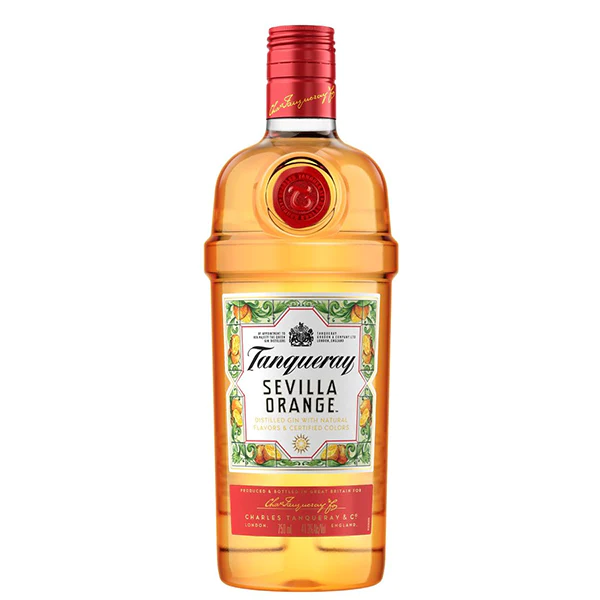 If there's any gin brand you can always trust to deliver, it's Tanqueray. From their signature London Dry Gin, all the way to this orange-flavored gin, Tanqueray always delivers!
Charles Tanqueray, the founder of the brand Tanqueray, created a recipe for an orange-flavored gin after a stroll through the Spanish orange groves. This recipe, however, went unused.
A whopping 140 years later, though, in 2018, this very same recipe was used to create this wonderful gin, the Tanqueray Flor De Sevilla. This is a citrus-forward gin that will undoubtedly bring to mind memories of a warm summer day.
When you take your first sip of this gin, you're greeted by a crisp taste of juniper berries, a signature ingredient in any gin. Along with the juniper is a citrusy, juicy, and even zesty flavor of orange.
The orange flavor is immediately noticeable and at the forefront.
In the background, hints of vanilla and allspice are present, making the gin just a tad sweeter and richer. Still, this is a gin where the citrusy flavor of orange shines the brightest!
---
Malfy Gin Con Arancia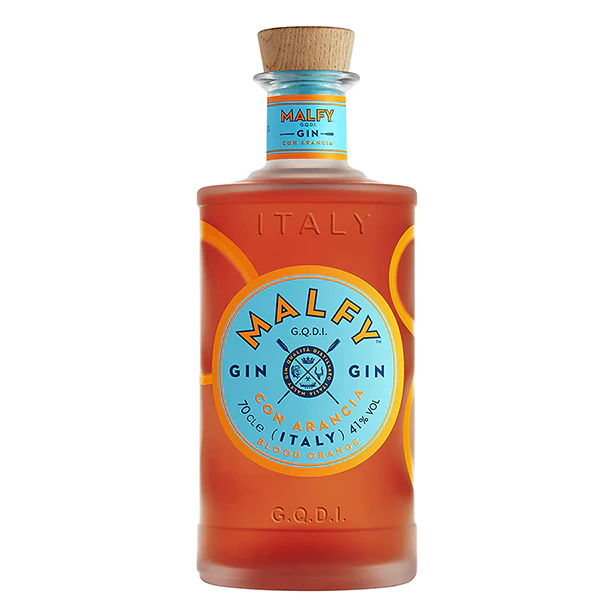 The name of this gin already hints at the influence of orange. Roughly translated, it means 'gin with orange'. Made by Malfy, an Italian gin distillery inspired by the Amalfi lifestyle, you're sure to get a wonderful product.
Besides the use of oranges, Malfy's Gin Con Arancia also uses juniper berries and blood oranges extensively. These three main botanicals come together to create a pure gin with a strong and dominant flavor of orange.
This dominant orange flavor is immediately noticeable when you open the bottle. Fresh wafts of orange will appear even before you pour the gin. And we haven't even mentioned the bright orange color of the gin itself!
Aside from smelling fresh, the taste is exactly so. It's fresh, juicy, and crisp, perfect for a warm summer day. Mix it with tonic, use it in a cocktail, or sip it neat, this orange-flavored gin will have you covered!
---
Whitley Neill Blood Orange Gin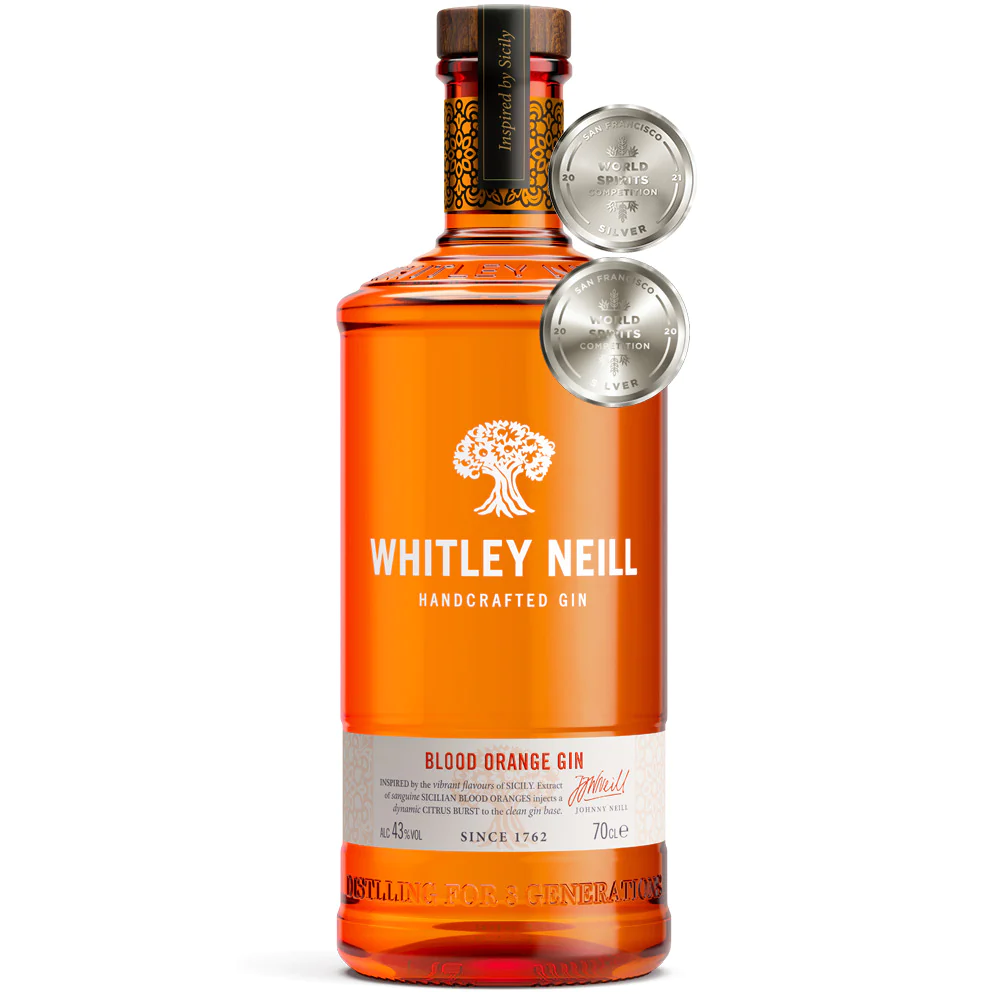 Whitley Neill is a family-run gin distillery that has been passed down for 8 generations. Over the years, the Whitley Neill family created a classic dry gin, which is now used in their many flavored variations.
One of those flavored variations is their Blood Orange gin. The original idea for this gin came when Frederick Neill was on his honeymoon in the Mediterranean.
Here he was inspired by the Sicilian countryside and he decided to pour this inspiration into this gin variant.
Whitley Neill Blood Orange Gin has a bright and fresh flavor, bursting with sweet and juicy blood oranges. Added to the dominant blood orange are hints of juniper, coriander seed, cassia bark, orris root, angelica root, licorice, lemon, and orange
All the botanicals come together to create something fresh, vibrant, sweet, and a little herbal. With such a complex flavor profile, it's no shock that this is an amazing gin to use in mixes or cocktails.
Pairing this gin with other drinks and flavors will make for the best experience.
With that being said, you can also drink this gin neat. On its own, it's already fantastic. This goes to show the true quality of Whitely Neill Blood Orange Gin.
---
Sipsmith Orange & Cacao
Sipsmith Orange & Cacao is an incredibly unique gin that takes the much-loved combination of chocolate and orange and combines it with gin.
The base of this orange-flavored gin is a classic London Dry Gin, and this London Dry is combined with a syrup of raw cacao and orange peel. This way, you get a pure and rich taste that still has the qualities of an actual gin.
Added to this wonderful concoction are hints of coffee, black cardamom, vanilla, orange blossom, and cacao nibs. These are distilled and then added to the syrup, making for an even more dynamic and complex flavor.
When you take a sip of this beautiful gin, you'll immediately notice its fresh and zesty taste of orange, paired with a dark and rich taste of dark chocolate/cacao. This makes for a fantastic combination that's both delicious and unique.
Many people like this gin best with a nice tonic. This is because the orange is fresh and the cacao makes it rich. However, the cacao isn't done in an overly sweet way, still leaving you with a refreshing drink.
---
Pin Gin Valencian Orange
Pin Gin Valencian Orange perfectly shows the fruity sweetness of orange, making for a fruity, sweet, yet crisp and fresh gin, perfect for a summery cocktail.
With this gin, you get a classic English gin, flavored with the sweet and juicy taste of orange. And even though the color of this gin is crystal clear, it's full of fruity flavors.
Along with the sweet and juicy taste of orange, you can also notice some floral accents. Hints of rose and lavender are present, giving off an aromatic and fresh feel.
This all comes together to create what might be your next favorite orange-flavored gin. Pair this wonderful gin with a cold tonic and you've got the perfect Mediterranean-like Gin and Tonic.
---
Aber Falls Orange Marmalade Gin
The Aber Falls Orange Marmelade gin is something to behold. This is a gin with the most intense, jammy taste of orange, truly living up to its marmalade name.
When you take a sip of this gin, you're immediately greeted by a crisp taste of juniper berries, as these should be present in every gin.
Along with the juniper berries, however, is a zesty, sweet flavor of orange, making this gin stand out from your typical juniper-forward gin.
This gin is often praised for its incredible taste. And even though it is amazing when used in cocktails or other drinks, the Aber Falls Orange Marmalade gin is often sipped on neat.
Sipping this gin neat will allow you to truly experience the amazing flavors of this gin. Serve this cold or over some ice and you might have your next favorite summer drink!
---
Beefeater Blood Orange
The classic gin brand Beefeater also offers their variation of an orange-based gin. However, instead of taking the regular orange fruit, they take blood orange!
Beefeater Blood Orange was created over 150 years ago by Beefeater founder Jamer Burrough. While creating this gin, he kept cocktails in mind, ensuring that this gin is not only great on its own, but also in cocktails.
This gin has a fresh and vibrant taste, just like the color of the actual gin itself. Citruses are at the forefront, especially the orange, making for a juicy, sweet, and slightly tangy flavor.
Added to this are undertones of juniper, giving the gin the taste of actual gin without overpowering the orange flavor.
As stated before, this gin was created with cocktails in mind. Therefore, it should go without saying that this is the perfect gin to use in your cocktails.
It adds a nice sweetness with its orange flavor and it can even make your cocktail look more aesthetic, seeing that this gin has a bright orange color.
However, even on its own, or served with tonic or ginger ale, this gin will be perfect. It's a true all-rounder, perfect for a gin veteran or someone who's looking for their first gin.
---
Chase Seville Marmalade
Chase Seville Marmalade is a Herefordshire-based distillery, known for its gins and vodkas. What makes Chase so special is that their drinks are made with a spirit distilled from apples, so they always deliver a fruity punch.
With their Seville Marmalade, the taste of apples is far in the background. Their apple spirit has been infused with beautiful orange zest from Sevilla, making for a bright and upfront taste of orange.
Added to the oranges is a touch of classic juniper berries, giving off an earthy, piney flavor. But there's also some sort of herbal aspect in the background, acting as a balancing factor against the sweet fruits.
Due to the fruity-forward flavors, this gin comes across as incredibly fresh. and a fresh gin is perfect for a fresh cocktail.
Serve this with tonic or in your favorite gin-based cocktail for a fresh and fruity beverage. Or just sip it neatly over some ice, either way will be amazing!
---
Pocketful Of Stones Marmalade Old Tom Gin
Pocketful Of Stones created a wonderful, orange-based Old Tom Gin. In and of itself, an Old Tom Gin is already a bit sweeter, but when infused with orange, this sweetness comes even more in the spotlight.
Infused with orange from Seville, this Old Tom Gin has a sweet, jammy, marmalade-like taste. This fruity sweetness is paired with a few different botanicals, such as spices, almonds, and licorice.
These all come together to create a gin that's a little richer and creamier than your typical orange-infused gin. This is partly attributed to the fact that this is an Old Tom Gin, but also due to the botanicals used.
Due to the heavier taste, this gin works perfectly in a mix or cocktail. This gin is an explosion of flavors that will shine even brighter when paired with even more flavors.
---
Redcastle Blood Orange And Rhubarb Gin Liqueur
Redcastle Blood Orange And Rhubarb Gin Liqueur is not an actual gin, but a gin liqueur. This can be found back in the ABV (Alcohol By Volume), which is only 20%.
The lower ABV doesn't make this gin liqueur any less delicious. In fact, it might even be a more approachable variant for the people that find regular gin a bit too strong.
Even though this gin liqueur is blood orange and rhubarb based, the main flavor you'll pick up is that of juniper berries. In the background is where the rhubarb and blood orange can be found, making for an interesting composition of flavors.
The Redcastle Blood Orange And Rhubarb Gin Liqueur is one of the more approachable gins on this list, mainly due to the lower ABV, but also due to the unique and mellow taste.
This makes it perfect for mixing, cocktails, or for a party with friends!
---
City Of London Murcian Orange Gin
The City Of London is a British distillery based in the heart of London. They used their signature London Gin as the base for their Murcian Orange Gin and infused it with many lovely botanicals.
The most noticeable of the botanicals is, of course, the orange, but you'll also pick up hints of juniper and a few spices. These spices give the gin a warming feel, making for a nice contrast against the fresh orange.
Overall, the flavor of this gin is great. It's fresh and juicy, but warm at the same time. This gives it an interesting flavor profile that's unmatched by others.
Serve your Murcian Orange Gin in a refreshing cocktail that could use a little extra kick, or enjoy sipping it neatly over fresh ice. These would be the best ways to enjoy this wonderful orange-flavored gin!
---
Liverpool Valencian Orange Gin
As the name suggests, this is a gin distilled in Liverpool. In fact, the distillery is located on one of the original seven streets of Liverpool!
The base of this gin is from the Liverpool distillery itself, made with their secret recipe. Added to this concoction is the zest of Valencian oranges, giving the gin a juicy, fruity flavor.
Along with the oranges are some herbal botanicals, making for a slightly fresher and more interesting flavor.
The head distiller, John O'Dowd created this gin for his son and daughter-in-law. He wanted to celebrate his son's wedding with a woman from Valencia, thus he took the Valencian oranges and infused them with Liverpool distillery's classic gin.
This gin is on the higher side in terms of ABV, being 46%, but that doesn't make this gin any less tasty. It's perfect for cocktails but works best in an ice-cold gin and tonic.
Less is more, and a simple drink such as a gin and tonic will be just perfect.
---
Greenall's Blood Orange And Fig
Greenall's mixed two amazing botanicals with their Blood Orange And Fig gin. Pairing these relatively sweet and powerful botanicals with the classic base of juniper makes for a wonderful flavor experience.
When you take a sip of this gin, you'll be met with coriander and juniper-forward flavor. This might not be what you expected, but don't worry, the blood orange and fig will follow closely.
Even though the coriander and juniper are at the forefront, the blood orange and fig are still very strong.
They give the coriander and juniper, naturally dry and earthier botanicals, a fruity freshness, making for a much more complex flavor.
Pairing this gin with a premium tonic or just sipping it neatly is perfect, but this gin will also be at home in a fresh summer cocktail! A truly refreshing gin with lots of uses; a gin you can't go wrong with.
---
Boë Spiced Orange Gin Liqueur
Boë Spiced Orange Gin Liqueur is a wonderful liqueur that beautifully blends the fresh and fruity orange with the warmth of spices. This makes for a unique combination that isn't really found elsewhere on this list.
Aside from the orange used in this gin, another standout is the use of cinnamon. There are more spices present, but the cinnamon seems to be the most noticeable.
Mixing cinnamon and orange can make for a flavor that recalls cold winter nights to mind. Usually, gin is associated with warm summer days, but this one does the opposite!
The flavor itself is wonderful as well. A beautiful touch of orange, paired with the spices gives you a flavor you'd expect; warm, fruity, and full of body.
Due to the use of spices, this gin is definitely best used when making cocktails, but you can even experiment with using this gin in a warm drink such as a Hot Gin Toddy!
---
G12 Grapefruit & Mandarin Gin
G12 Grapefruit & Mandarin Gin is a gin that doesn't actually focus on the orange fruit. However, the combination of the fresh and juicy grapefruit with the sweet and tangy mandarin makes for a flavor that's extremely reminiscent of orange.
The base for this gin is a classic dry gin, infused with your typical gin botanicals. Added to that are the mandarin and grapefruit.
Both of these citruses are responsible for a wonderful taste of fruity, tangy orange. Even though the actual orange isn't present here, it definitely tastes as if it's here.
However, the flavors of this gin are quite subtle. The flavors are definitely there but on the lighter side. This isn't a bad thing, but if you're looking for a gin with intense orange flavors, this isn't the one.
If you're looking for a flavored gin that actually still resembles gin, this would be a great one for you. Mix it with a nice tonic or sip it neatly over some ice and you'll have a wonderful and refreshing drink.
---
The Dundee Gin Co. Marmalade Gin Liqueur
The Dundee Gin Co. Marmalade Gin Liqueur is a staple in The Dundee Gin Co. collection. Made with their classic dry gin as a base, this gin is sweet, jammy, and fresh.
Because this is a gin liqueur, you'll find that this gin is a little sweeter than usual. Luckily, it isn't overly sweet, making it great for both gin lovers and gin newcomers.
When you take a sip of this fine gin, you're greeted by a dominant flavor of jammy orange. Added to the orange are some floral undertones, as well as a sweet hint of vanilla.
These all come together to create something sweet, yet approachable and mature.
Mix this gin liqueur with your favorite tonic or use it in one of your gin cocktails. This gin definitely works best when mixed with other wonderful drinks and flavors!
---
TW Kempton Blood Orange Gin Liqueur
TW Kempton Blood Orange Gin Liqueur is a blast of citruses in a bottle. This is once again a gin liqueur, so it will be a little sweeter, but this gin liqueur still has dominant elements of the juniper berries.
The color of this gin will tell you all you need to know about its flavor. It is colored dark orange, representing the jammy orange flavors.
In addition to the jammy orange flavor, you can find a piney undertone of juniper berries and a fruity touch of raspberries.
These make the overall flavor a lot more interesting and, although the raspberry adds to the sweetness, the juniper actually balances out the sweetness, preventing it from becoming sickeningly sweet.
The most aesthetic way to serve this gin is to just pour it over ice.
The color of this gin is phenomenal and looks stunning when served over ice. Alternatively, you can serve it with tonic or use it in a gin cocktail. Just keep in mind that this gin will definitely alter the color of your cocktail.
---
Edinburgh Gin Orange Blossom & Mandarin Liqueur
Edinburgh Gin Orange Blossom & Mandarin Liqueur is yet another gin liqueur on this list, this time it's a little more floral-based!
This is a truly wonderful gin that perfectly encapsulates summer in a bottle. The fresh flavors of mandarin, paired with the freshness of orange blossom make for a drink that will be unmissable in the summer.
Due to it being a liqueur, the drink will be less crisp and a little sweeter. Still, you can find the elements of a classic gin in the background. Hints of coriander and juniper berries are present, giving off that distinct piney, earthy taste.
When these are paired with the fresh orange blossom and juicy mandarin, you're left with a wonderful gin liqueur, perfect for sipping neat or using in a cocktail. This gin liqueur is basically summer in a bottle!
---
Final Thoughts
After our long list of top-notch gins, you can surely say that your mind is blown. That said, we are certain that one or two will surely capture your fancy.
With such amazing flavors and rich history of making fine spirits, it's no wonder why orange gin is so popular today! All these factors add up to make this spirit a great choice for special occasions.
We are sorry that this post was not useful for you!
Let us improve this post!
Tell us how we can improve this post?